Looking for...
Solar Panel Cleaning
Looking for...
Solar Panel Cleaning
Solar panel cleaning is an absolute must if you want to get the best possible performance out of your panels. Most commonly, the solar cells in a panel will be covered by a glass coating for protective purposes. The dirtier this coating becomes, the less efficient the solar panel will be.
Turn to the professionals at SDCH Cleaning Services to clean your solar panels. We can clean panels of all sizes. With solar panel cleaning, you can reduce dirt, moisture and other contaminants.
Our reach & wash system reaches heights that a ladder can't. All your solar panels can be cleaned, even above your conservatory or extension.
We don't need to trample lawns and flower beds to gain access to your solar panels.
There are no chemicals, just pure water making it environmentally friendly & safe.
Solar panels stay cleaner longer as there is no soapy residue left on the surface.
The Cleaning Process
Using reverse osmosis and de-ionisation technology, we make 1000 litres of pure water (per day) from tap water which is purified. This process removes all minerals and impurities.
When we arrive at the property to clean your windows, our purified water is pumped from the van by hoses to a telescopic pole with a brush head at the end.
We will scrub the solar panels, removing all dirt and grime. The solar panel is then rinsed and left to dry naturally. As we ONLY use pure water it dries without leaving any smears.
We leave and you have beautifully clean, and far more effective solar panels.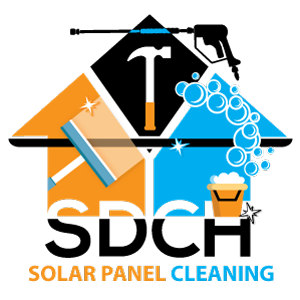 Local solar panel cleaning service covering all areas of Herefordshire:
HR1, HR2, HR3, HR4, HR5, HR6, HR7, HR8, and HR9 postcodes
Hereford, Ledbury, Ross-on-Wye, Leominster, Kington, Bromyard, Hay-on-Wye, Credenhill, Lugwardine, Withington, Weobley, Clehonger, Ewas Harold, Lee, Bridstow, Walford, Weston under Penyard, Aston Ingham, Ballingham, Bishopswood, Bolstone, Brampton Abbots, Broad Oak, Carey, Dymock, Foy, Gorsley, Hoarwithy, Huntley, Kempley, Kilcot, Kings Caple, Linton, Little Dewchurch, Littledean, Llangarron, Llangrove, Lydbrook, Mitcheldean, Much Birch, Much Marcle, Newent, Orcop, Peterstow, St. Weonards, Upton Bishop and Whitchurch, Arrow , Aylestone Hill , Backbury , Belmont Rural , Birch , Bircher , Bishops Frome & Cradley , Bobblestock , Bromyard Bringsty , Bromyard West , Castle , Central , College , Credenhill , Dinedor Hill , Eign Hill , Golden Valley North , Golden Valley South , Greyfriars , Hagley , Hampton , Hinton & Hunderton , Holmer , Hope End , Kerne Bridge , Kings Acre , Kington , Ledbury North , Ledbury South , Ledbury West , Leominster East , Leominster North & Rural , Leominster South , Leominster West , Llangarron , Mortimer , Newton Farm , Old Gore , Penyard , Queenswood , Red Hill , Ross East , Ross North , Ross West , Saxon Gate , Stoney Street , Sutton Walls , Three Crosses , Tupsley , Weobley , Whitecross , Widemarsh , Wormside